The Trossachs and Loch Katrine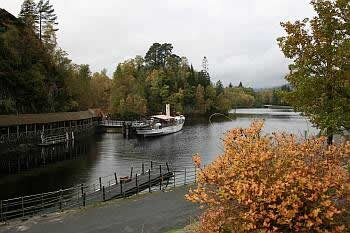 The Trossachs is an area of oustanding beauty which in a comparatively small area offers an unbelievable variety of landscapes. Historically, the name 'Trossachs' applies only to the small area bounded by Loch Achray, Ben A'an, Loch Katrine and Ben Venue, but these days is taken to include a much larger area. But if you are interested in reading about the historical heritage of this area buy custom college essays or contact local institutions that can provide you with specific information. The name 'Trossachs' comes from the Gaelic meaning 'A Bristly Place' - a description which is justified when viewing the heart of the Trossachs near Loch Katrine. The nearest main towns to The Trossachs are Callander to the east, and Aberfoyle to the west.
Steeped in history, the Trossachs were an inspiration to Sir Walter Scott who wrote the novel "Lady of the Lake" after spending time around Loch Katrine. Queen Victoria fell in love with the area and spent time at Invertrossachs House at Loch Venachar in the Trossachs. A high pass on the slopes of Ben Venue, 'Bealach nam Bo' or 'pass of the cattle' is reputed to be the route used by cattle raiders to smuggle their cattle to hiding places in Flanders Moss, a peat bog further to the south.
Probably the main attraction of the Trossachs is the Loch Katrine complex at the south end of the loch. The complex facilities include the Steamship SS Sir Walter Scott, a smaller vessel 'Ellen's Isle', a restaurant, a souvenir shop and a private road forming a pleasant cycle route round the loch. For further information visit The Trossachs Scotland homepage
Visitors to the Trossachs are often surprised to learn that Loch Katrine forms a large part of Glasgow's water supply and that the water level has been raised on several occasions to increase the capacity. A narrow road on the left of the approach road to the pier complex leads to the dam which controls the water level in the loch, and also the flow to the 'Achray Water', the river feeding Loch Achray.
The Trossachs is one of the four regions of The Loch Lomond and Trossachs National Park which also includes Breadalbane, part of Argyll and Loch Lomond.