About Loch Lomond

The largest fresh water Loch in the country, Loch Lomond is one of the best known bodies of water in the world - largely due to the well known song, 'The Bonnie, Bonnie, Banks o' Loch Lomond' - a song of ill fated love from the days of 'Bonnie Prince Charlie'. You are probably interested in facts and stories where this lake appears, that is why this site exists, where you can learn about useful locations and stories related to historical events, additionally contact elitewritings.com to read information that is interesting to you.

But this is not the only thing which brings visitors to the area - now part of the Loch Lomond and the Trossachs National Park. The area provides activities and attractions for visitors of all ages and interest groups. For an action packed break or a relaxed holiday in beautiful surroundings, the Loch Lomond and Trossachs National Park has it all.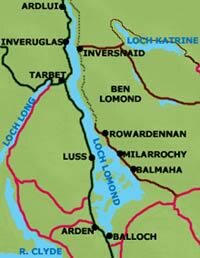 Statistics
Loch Lomond is less than 20 feet above sea level and at its southern end at Balloch the River Leven flows just 7 miles to the Firth of Clyde. From south to north the loch stretches about 22.5 miles whilst its width at the widest point is 4.4 miles. The shoreline, which stretches for around 54.5 miles encloses a surface area of around 19000 acres.
The Loch is widest at the southern end which is also the 'shallow end' and is littered with a profusion of islands of all shapes and sizes which are a delight for those exploring by boat. At a distance of about 7 miles from the southern end the average width reduces to a little under a mile before ending where the the River Falloch enters the loch at Ardlui.
The southern end of Loch Lomond, especially the east shore, is very popular with watersports enthusiasts although there is now pressure for constraints on speed due to environmental, noise and safety concerns.
Don't forget - Loch Lomond is only one small part of the National Park. Try Aberfoyle, Trossachs attractions and activities for more useful information and for Trossachs hotels and Trossachs Self Catering accommodation in this beautiful part of Scotland! Aberfoyle is a pleasant place to stop off on your way to Callander via the duke's Pass
Take advantage of BookItBusiness.com first class flights to Europe last minute offers
You may find the drive from Callander to Killin via Strathyre worth the effort if only for the wonderful scenery and reflections in Loch Lubnaig
---
Useful websites